So I was actually going to write a post about the whole "Franzen hates e-books" thing, but I decided that wasn't really worth the post. I mainly would have been saying "dude has a point", but ya'll know my anti-ereader sentiments already, so ehhh. I'm too lazy to go through it right now.
INSTEAD, let's talk about something definitely on my mind this morning – Tattoos! I don't love ALL tattoos - I prefer my tattoos to be small and pretty, but who in the book blogging world doesn't love literary tattoos?
Now, I'm purposely saying "literary tattoos" instead of "bookish tattoos", because I think literary covers a broader scope – any quotes, the alphabet, common phrases, pictures of authors/book/book scenes, etc.
I have two tattoos right now, (one more literary than the other) and I'm craving a third one… and since my birthday is next month, tht might just happen. But first, the ones I currently have:
"Live Laugh Love" circled around my left wrist. And yeah, I know LLL is kind of cliched, but I love it. It reminds me to be happy and enjoy life, even when stuff sucks. Also, I've realized I take very few pictires with my wrist in the shot, lol. This was from about 2 years ago and the clearest picture I could find right now.
"I'd rather be reading." scrawled across the top of my right foot. I had trouble deciding exactly how to express my love of reading and books, without choosing a long-ass quote or getting a picture of a stack of books, which would be ugly and boring. I think this came out awesome, and since I got in October right before it got cold out, I'm really looking forward to flip-flop weather.
I want another tattoo, but I take my time in deciding. I mean, it's permanent! Which is why I'm hesitant to get a direct quote from a book tattooed on me, cause what if I end up hating that book later on in life? Or, quotes that I like seem too long and since I don't like big tats, that cancels those out.
You guys know how much I love Diana Gabaldon's Outlander series, so of course I want an Outlander-themed tattoo. I have several pieces of Outlander jewelry thanks to the honeyman (seriously, I love that man), including the ring below. I want to get that thistle Celtic pattern tattooed on me, perhaps added to the Live Laugh Love tattoo around my wrist. It would be an awesome way to pay tribute to my favorite series, without having to pick a quote or something. I've actually already had my sister draw up the pattern on paper for me, so maybe this will be the one I get next…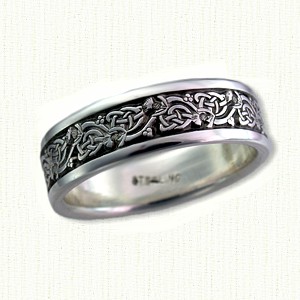 There's one quote from a song that I've really been wanting, but I'm not sure where I would put it, or how small I could make it… "This life is temporary but the soul is eternal" from the song Thieves in the Night by Mos Def and Talib Kweli. It's not bookish, but it's words, so it counts as literary… right? Along the same lines, I'd really love to get the infinity symbol tattooed, and I'm thinking of maybe doing it in white ink… I'm not sure yet.
ANYHOO, literary tattoos are fun! And meaningful to bookish folk like ourselves. I love looking at them online, and probably my favorite site is The Word Made Flesh. I could scroll through that site forever.
So, what do you think of literary tattoos?
Is there any book, quote, or author that you'd be willing to get tattooed on yourself?
Do you have any already?
Or are you thinking of getting any?
And would you please leave links to your literary tattoos in the comments? I've love to see them.
~Sarah