This has been a pretty fabulous weekend. The only downside is that I didn't go to the gym at all, but I did read a bunch, and books that I ordered when I was having some very bleak feels on Friday (Inauguration Day) showed up today, so that's cool.
I didn't attend any of the Women's Marches happening, but man it was WONDERFUL to see the worldwide participation all over the internet. I know I'll hear a lot of "so stupid, just get over it, what does protesting even do" but screw that. It was a global showing that women are here and not going to stand for the shit that our new president and Congress are going to try to pull on us. I just hope that everyone stays that pumped up and continues to do good work – call representatives, donate to good causes, learn now to vote in ALL elections, and most importantly be there and stand up for the more marginalized groups. These are things we ALL have to get better at, me included. Every little bit helps.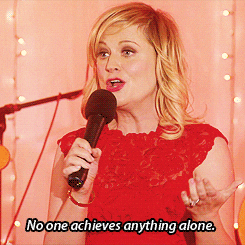 Reading: Woo! Okay, I read March: Book Three (yay John Lewis) and the final volume of Chew. I finished Breasts by Florence Williams earlier this week, and I don't know if I'll get a review up but basically if you have them it's totally worth the read. And the author makes it an engaging, funny read, kind of like a toned-down Mary Roach. She doesn't quite reach so hard for the jokes but they're great. And I finished Big Little Lies by Liane Moriarty – I've had it on my Kindle for years but kind of avoided it because it seemed very rich white people problems. And it is, but it was gossipy and the women touched on some really serious issues that actually affect all women and it was kind of really great. I'm looking forward to checking out the show at some point. And now I'm starting Half of a Yellow Sun by Chimamanda Ngozi Adichie because she's amazing and it's going to count as my "book about war" for the Read Harder challenge.
Watching: Ugh, trying to finish watching season 3 of Blacklist. I might drop it after we finish this season, I don't like the direction it's taking.
Listening: Sticky Fingaz. I finally put music on the new laptop and back on my phone so I'm enjoying lots of older music right now.
Eating: Garlic-stuffed kalamata olives, marinated mushrooms, and roasted garlic on bruschette toasts. Mmmmm.
Thinking: Normal "I don't want to go to work tomorrow" feels. And how I should really get back to reading.
Citizening: I did call my reps this week – my senators to encourage them to vote against Betsy DeVos, and my House rep to express my feelings about the H.R. 490 bill that was introduced to committee, which if passed would basically outlaw abortion – it's a national heartbeat bill. And if our new president puts a far right conservative in the Supreme Court, then it has a chance of being upheld. I'll be calling a lot about this.
Oh, and I made a small donation to First Book on Friday. Because buying myself diverse books and donating money to kids for books felt like actionable things I could do to try to curb the despair feels I had going on.
Anticipating: My next paycheck. Definitely shouldn't have gone on that book-buying binge, but oh well. I got some really awesome books – the last volume of Chew, The Fifth Season by N.K. Jemisin, The Three-Body Problem by Cixin Liu (partly because Obama read and liked it, I admit) and Stamped From the Beginning: The Definitive History of Racist Ideas in America by Ibram X. Kendi which is going to be a long, hard read but I bet it will be well worth it.
Exercising: Only went to the gym twice this week. I am too good at talking myself out of going on the weekends, damn it. I gotta get better at that. You'd think weekends would be easier than the two 3:30 am weekdays, but so far that's not the case.
Alright loves, I gotta get back to my books and take advantage of these last few weekend hours. Have a great, productive week!