Happy New Year's Eve! 2016 is finally over (finally!) and now I can do the fun stuff, like dive deep into data about my reading and book-buying and stuff.
I'm pretty excited about my Top Ten Favorite Books of 2016, because man they were stunning.
Alexander Hamilton by Ron Chernow
The Mothers by Brit Bennett
Heroine Complex by Sarah Kuhn
Let It Shine by Alyssa Cole
The Long Way to a Small, Angry Planet by Becky Chambers
Homegoing by Yaa Gyasi
Just Mercy by Bryan Stevenson
Do You Want to Start a Scandal by Tessa Dare
Last Call at the Nightshade Lounge by Paul Krueger
Men We Reaped by Jesmyn Ward
Narrowing down my top ten felt extra hard this year, which is why I did a Top Five Runner-Ups post. And I don't know if I've ever had romance in my top five before, but I read some exceptional ones this year.
So, my reading goals for last year were mostly the same as the year before:
Read 50% non-white authors.
Buy more books / spend more dollars on non-white authors.
Maintain roughly 50% gender stats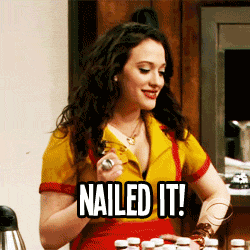 Another one of my goals was also for 75% of my reading to come from my own shelves or Scribd, and I failed horribly at that, so let's just move on now.
So, a couple notes:
I read fewer books and fewer comics this year than in 2015, which is a bummer. I'm pretty sure I read so many fewer comics (501 in 2015) because I read hardly any digital ones this year. I got rid of Scribd earlier in the year when they changed with model again, and I didn't get Marvel Unlimited until November. And this was just a really busy year, so I'm not surprised the number of books I read decreased. I'm actually surprised it only decreased by 5.
I tried to go on a book-buying ban for 6 months, and that failed and backfired. I ended up buying about 60 more books this year than the year before.
My page count is actually higher than last year – probably because I re-read the first four Outlander books this year.
So we all know that 2016 was a garbage fire for many, many reasons, but I do want to point out a couple awesome things that happened for me this year:
Visited Washington, DC for the first time.
Went to Book Riot Live! (This was also one of my 2016 goals, woohoo!)
Moved to a bigger apartment.
Got two new tattoos (vault symbol and arrow – the arrow is the only thing my family could agree on when we decided to get a matching tattoo)
So, even though 2016 sucked on a massive, general scale – I had lots of good things going on.
And now, I have some pretty simple goals for 2017.
All right you guys. Have a wonderful night tonight, and let's go into 2017 positive and determined to kick ass!
Happy New Year!