The honeyman is playing video games and I'm sitting here reading, blogging, and drinking coffee. It's a good start to a Sunday! Also yesterday I successfully tackled the basement and living room and made major progress on unpacking, so that's cool. There's still boxes in the bedroom, but those are the husband's to deal with, so.
Reading: The Girl With All the Gifts by M.R. Carey, which is super interesting and perfect with Halloween right around the corner. I'm also catching up on a bunch of comics, I read about a dozen last night and I have about 20 more in this stack.
Watching: Nothing really. I started re-watching Galavant yesterday, because of course I did. And we're going to stay in tomorrow for Halloween and watch a scary movie of Treland's choosing. Kinda hoping we get trick-or-treaters, but if not it's cool because more candy for us 😉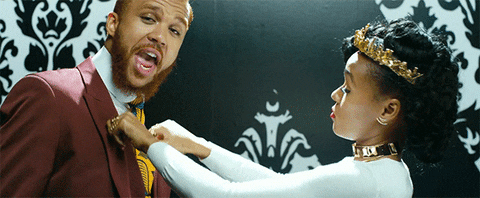 Listening: Jidenna and Janelle Monae. Treland got that "Long Live the Chief" song that Jidenna performed on Luke Cage stuck in my head, so I downloaded a much of Jidenna and Janelle Monae songs this weekend.
Eating: I made chicken taco chili on Friday and it's already gone! So probably pizza tonight.
Blogging: I'm trying to schedule a couple things in advance, since I'll be travelling a bunch over the next two weeks. But also, I had these cute business cards made (see below) to bring with me to DC and NYC, just in case the occasion calls for it. I'm obsessed, they're so adorable.
Thinking: About all the shit I have to do before leaving this week, and also I've never flown before so that's starting to stress me out just a tiny bit… but less so than the thought of flying would have like a decade ago, so good job on growing up, me.
Also, about how I've been trying to grow out my hair this year and the dark blonde is about down to eye level now, and it is SO TEMPTING to just color it again before going anywhere, but then I'd have to start all over again… Stupid dumb hair.
Anticipating: Having a mini-vacation! And exploring DC a bit, and reading on the plane. It's only like an hour and a half flight but I'm VERY excited about the chance to read while flying for some reason.
How has your weekend been?