Happy Sunday there, folks. I packed and moved furniture and boxes around a LOT yesterday, so today is going to be mostly about relaxing.
Reading: I finished Labyrinth Lost by Zoraida Cordova, and I started reading The Underground Railroad by Colson Whitehead. I'm a little annoyed at Oprah getting the release date for it, because I had an e-galley and was about to start reading it to prep for next month's release. Anyways, I started the e-galley and it's so good I went and bought the hardcover yesterday, so.
Watching: Yeah, we watched Stranger Things in it's entirety this weekend. Damn, Netflix is good. And I know everyone kept going on about Winona Ryder being in it, but I'm pretty sure Dustin was the star of that show. OMG that kid.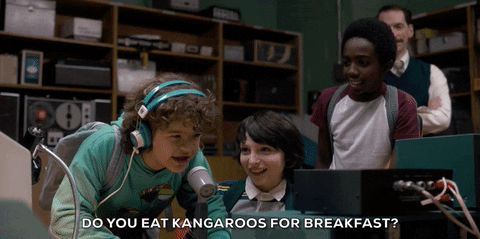 If I have a kid in some parallel universe, I hope he's like Dustin. LOLs forever.
Listening: Podcasts mostly. And I tried The Partly Cloudy Patriot on Audible, but I had to return it – Sarah Vowell narrates herself for the most part and it was a bit rough to listen to. And her books seem PERFECT for audio, so that was disappointing. SO instead I got Playing Dead: A Journey Through the World of Death Fraud by Elizabeth Greenwood on Audible, and I admit that my decision was based like 95% on the fact that Mindy Kaling Instagrammed about it. (The other 5% was me listening to the sample and deciding that I could handle the narration.) Excited to start it.
Eating: The honeyman is making me breakfast sliders right now.  🙂
Blogging: HA. My blogging is all over the place – I can't get on a set schedule with work being so crazy busy that sometimes I stay late and then trying to deal with packing stuff at home. But I'm not abandoning my blog so I guess that's all that matters right now.
Thinking: About those sliders. And how I should go to the gym, but I think staying inside and reading and doing laundry sounds a lot better.
Anticipating: Book Riot Live! I think I'm going to buy tickets this week, and trying to get my sister to go with. Anyone reading this gonna be there? It'll be the first time in all my years of blogging that I'll be able to go to a big bookish thing and meet people IRL!
For reals, let me know. Now how is your weekend shaping up?
~Sarah