(Up a bit late, because my mom is in town and I spent most of Sunday with family.)
Reading: The Fifth Season by N.K. Jemisin – I'm having a little trouble sinking into it because there's a lot of new words and world-building stuff happening (and I'm reading it digitally, so can't just go flipping to the Glossary easily) but I'm 10% in so I think I'll stick with it. I read the first chapters of like three other books but I guess I just didn't really know what I feel like reading.
Oh, and I'm reading the Jessica Jones: Alias series and it is fantastic so far. I'm on volume 3.
Watching: A crap ton of Cougar Town, because it's so fluffy and great.
Listening: Hamilton. The Tony Awards performances were just fantastic. I loved that they performed without the muskets, and Miranda's acceptance speech sonnet…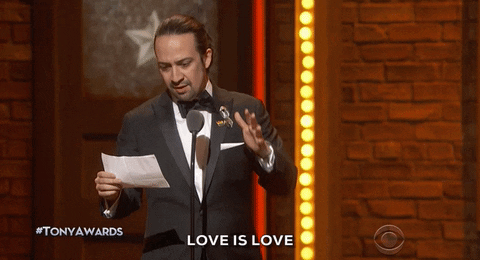 Eating: I had the most awesome soft-serve vanilla ice cream with rainbow sprinkles and it was SO TASTY.
Blogging: I have some posts to work on. I finished Being Mortal by Atul Gawande last week, but I don't think I'm going to be able to review it. My feelings about my grandma's death are too tied up in it. But just so you know – it was great.
Thinking: About the horrible massacre at the gay club in Orlando, and about how our country needs to deal with its gun problem, but also its hatred problem. I am so sick of hearing about a man deciding to up and murder women, black citizens, gay citizens, Muslim citizens, trans citizens, poor citizens, and on and on and on. Hatred should not have the right to exist. To the LGBTQ community – you have my ongoing love and support. 
Anticipating: The honeyman will be home from drill this week and I cannot wait.
~Sarah