Am I the only one who misses Hercules Mulligan?
I know that's not relevant to anything in this section, but man he hasn't been around since the beginning and these last like couple sections have been so bogged down with Hamilton and Adams throwing caution to the wind and getting all up in each other's faces that I miss the early sections that were full of Mulligan sharing insider exclusives on Hamilton's brighter days.
Anyways, so we start here on some crappy footing – the Alien and Sedition Acts. Hamilton decides that he's not such a fan of immigration after all.
And the act makes it a crime to speak or publish anything about the government that the government doesn't like. Bad call, everyone involved.
And then we hop over to the ridiculousness that is Burr's creation of a water company to provide fresh water and to help combat yellow fever epidemics that turned out to not be that all, but the creation of a bank. Come on A. Ham, how did you let him get one over on you like this?
Hamilton gets absorbed in the tiny details of cocked hats in the military in a perfect and ridiculous #1stworldproblems moment, considering his army is probably not going to really materialize much less go to war with France anytime soon.
Washington dies 😦 and Hamilton has a lot of touching moments of sadness. "My imagination is gloomy, my heart sad." Gave me a little feels.
Chernow notes that Washington is the only President to free all his slaves in his will. Sorry Washington, but you don't get a cookie for only freeing your slaves after you and your wife die and will no longer benefit from their oppression.
VP Jefferson is a wang and doesn't even go to Washington's memorial service. Considering Washington handed you the Secretary of State seat on a silver platter, this seems pretty lousy.
Blah blah blah, more of Adams and Hamilton fighting… seriously, thank you so much Lin-Manuel Miranda for condensing all this shit in basically one song. Although I will note that it's hilarious that Hamilton was trying to goad Adams into a duel. OF COURSE he would be trying to duel with the President.
And The Election of 1800! Burr is openly campaigning (honestly's it's kind of draining!) and I find it very interesting that he was like the first one to really create the idea of campaigning super hard in politics.
Hamilton sides with Jefferson, as we know, and after much political back-and-forth Jefferson is made President. And the guy that Jefferson makes the new Secretary of Treasury ends up singing the praises of Hamilton's financial system, so TAKE THAT.
Hamilton builds a house for him and his giant family, Peggy dies (sad face), and Hamilton goes ahead and helps create the New York Post.
*Sigh*… Phillip's duel.
I have to say… I am not a parent, nor do I have an interest in being one. But IF I was, and I found out my kid got himself in a duel because of some stupid shit over my own honor… I would've handled this differently. I at the very least would have taken my kid out back and made him practice drawing and shooting, encouraging him to shoot the other person as quickly as fucking possible because at the end of the day, I feel like your kid coming home alive is probably most important.
That being sad, again many sad faces because clearly baby Ham's death was traumatizing for the whole family.
So damn, this section was kind of a downer! And you know, this next section is the last so probably will still be hard on the emotions. Only 75 pages left you guys! We're gonna make it!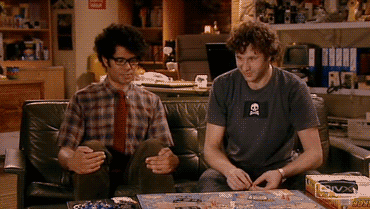 ~Sarah