So,  this is a particularly exciting review to write because it's a comic book / graphic novel. Also, because it's based on one of the best tv shows ever called Firefly, which I never get to talk about here because this is a book blog. Finally, two awesome things come together.
So, Serenity: Those Left Behind is Volume 1 of the Serenity graphic novels. (There are currently three out right now.) It's written by Joss Whedon and Brett Matthews, and illustrated by Will Conrad. They do a great job.
If you love Firefly, you will love this.
This is basically just a small glimpse into what's taking place after Firefly ends, but before the events of the movie Serenity*. Inara still wants to leave, and Shepherd Book is still struggling with his morals and flying with a group of thieves and smugglers. We also see a reappearance of Lawrence Dobson, an Alliance secret agent from the tv show. It makes me happy just to "be" with the crew again. I miss Mal, and Wash, and Kaylee.
The story is interesting, simple, and short. It leaves a nice mini-cliffhanger to make you want to go read the second volume right away. And the artwork is fantastic. There are some truly beautiful pictures of the characters, that I wouldn't mind actually having framed and hanging up in a game room or something.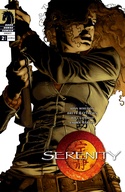 I definitely recommend this book if you're a fan of Firefly. It definitely makes me want to curl up on the couch and re-watch the whole thing. Instead, I'll probably be reading volumes 2 and 3 soon, because the honeyman recently acquired them 🙂
Sarah Says: 5 stars!
*OK, quick note for those of you who have no idea what I'm talking about – Firefly is an awesome show that was on Fox, but was cancelled before the first season even ended. That season is on DVD – go buy and watch it. Because of the loyal fan base that it had, a follow-up movie called Serenity came out, to tie off a couple loose ends and give everything a slightly more concrete ending.